Main content starts here, tab to start navigating
Beer on Tap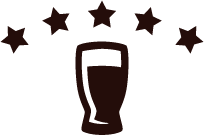 Served in Pints, Half-pints, Mugs,
and Flight Trays (Your choice of 4 - five oz. beers)
KBC Staples
Deralia IPA

ABV – 6.4% IBU – 78. This well balanced American IPA is assertively bitter and dry hopped for a fresh citrusy aroma and taste.

Long Strange Trip

ABV – 9.9% BU – 35. Effervescent Belgian Tripel offers complex spice notes from both yeast and hops while finishing dry.

Pontoon Pale Ale

ABV – 4.8% IBU – 42. This pale ale is well balanced with an ample malt and citrusy hop flavor. The perfect boat beer leaving us longing for summer.

Sorachi Blonde

ABV – 5.6% IBU – 19. Brewed with Sorachi Ace hops, leaving hints of lemongrass and dill. The brewmaster's light beer of choice.

Center Stage Amber

ABV – 5.9% IBU – 29. Toasty malt character, medium body with a dry finish. Always a crowd pleaser.

Birch Bark Porter

ABV – 6.4% IBU – 19. Brewed with an abundance of seven different specialty malts, this porter is rich with notes of fresh roasted coffee and decadent chocolate.

Mandatory Milk Stout

ABV – 4.9% IBU – 24. (Nitro) Nine varieties of specialty malt including flaked oats, flaked barley and roasted barley. A creamy flavor is created by a heavy dose of lactose added during the brewing process.

Hard Cider

ABV – 5%. American style hard cider made from a blend of four Michigan apples. Crisp and semi-dry

gluten free
Rotating Taps
Chocolate Bark - Chocolate Imperial Stout

ABV – 9.3% IBU – 17. Roasted malts and dark chocolate brewed with milk sugar to deliver a smooth, creamy finish

Ridgemont Rye - Pale Ale

ABV - 5.8% IBU - 45. American Pale Ale brewed with a generous dose of Rye, along with Chinook & Cascade hops.

Project 59 - Hazy IPA

ABV - 5.4% IBU - 55. Double dry-hopped Hazy IPA bursting with vibrant tropical and citrus aromas, while delivering a delicate yet bold hoppy finish.

Wild Wild Westy - West Coast IPA

ABV - 6.2% IBU - 60. West Coast style IPA with aromas of lemon, peach, and pineapple, with hop-forward flavors of citrus & stone fruit and a full, hoppy finish

Kick Ultra

ABV – 4.4% IBU – 17. Light bodied and refreshing, this ultra-low calorie ale is made with a blend of barley and just enough hops to create this perfectly balanced pint.

Small Batch Tap

Rotating handle that includes our smaller batches of brews, allowing our brewmasters to try some fun, new things. We'd love to tell you all about what is rotating on the Small Batch Tap today!