Main content starts here, tab to start navigating
Beer on Tap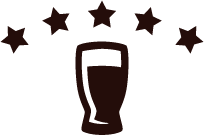 KBC Staples
Deralia IPA

ABV – 6.4% IBU – 78. This well balanced American IPA is assertively bitter and dry hopped for a fresh citrusy aroma and taste.

Long Strange Trip

ABV – 9.9% BU – 35. Mike's effervescent Belgian Tripel offers complex spice notes from both yeast and hops while finishing dry.

Pontoon Pale Ale

ABV – 4.8% IBU – 42. This pale ale is well balanced with an ample malt and citrusy hop flavor. The perfect boat beer leaving us longing for summer.

Sorachi Blonde

ABV – 5.6% IBU – 19. Brewed with Sorachi Ace hops, leaving hints of lemongrass and dill. The brewmaster's light beer of choice.

Center Stage Amber

ABV – 5.9% IBU – 29. Toasty malt character, medium body with a dry finish. Always a crowd pleaser.

Birch Bark Porter

ABV – 6.4% IBU – 19. Brewed with an abundance of seven different specialty malts, this porter is rich with notes of fresh roasted coffee and decadent chocolate.

Mandatory Milk Stout

ABV – 4.9% IBU – 24. (Nitro) Nine varieties of specialty malt including flaked oats, flaked barley and roasted barley. A creamy flavor is created by a heavy dose of lactose added during the brewing process.

Hard Cider

ABV – 5%. American style hard cider made from a blend of four Michigan apples. Crisp and semi-dry

gluten free
Rotating Taps
Westy-bound & Down

ABV – 6.1% IBU – 66. The third release of our Westy series, this West Coast style IPA produces aromas of stonefruit and grapefruit and hop-forward flavors of melon, papaya, and lemongrass.

Ryeway 75

ABV – 5.6% IBU – 30. Medium-bodied pale ale with a slight rye spice to compliment the sweet barley, and balanced with Amarillo & Cascade hops for a clean, flavorful drinking experience.

Kick Ultra

ABV – 4.4% IBU – 17. Light bodied and refreshing, this ultra-low calorie ale is made with a blend of barley and just enough hops to create this perfectly balanced pint.

Uncle Mike's Peppercorn

ABV – 5.6% IBU – 30. We start with a standard American Pale Ale, then add rye and a generous dose of fresh Tellicherry peppercorns. Citrusy American hops blend with spicy pepper and rye to create a perfect pint.

Small Batch Tap

Rotating handle that includes our smaller batches of brews, allowing our brewmasters to try some fun, new things.